February 28, 2008
Peter Goldring Applauds 2008 Budget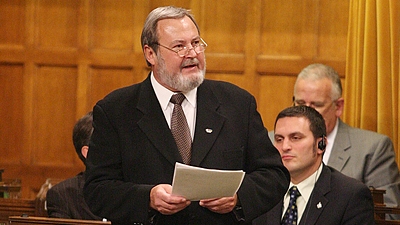 Building on the Government's 2007 Fiscal and Economic Update, our Conservative government today tabled a balanced, focused and prudent budget to strengthen Canada and Alberta amidst global economic uncertainty.  Budget 2008 continues reducing debt and taxes, focuses government spending, and provides additional support for sectors of the economy that are struggling.
"Our government is taking the path that requires focus, prudence and discipline," said Peter Goldring, the Member of Parliament for Edmonton East. "This budget builds on our long-term economic plan Advantage Canada, a plan that is a realistic and responsible way forward."

This year alone the federal government is injecting $21 billion of stimulus into the Canadian economy as a result of all of our tax relief measures.  As a share of the economy this is significantly greater than the stimulus package offered by the U.S.

Budget 2008 also provides Canadians with the most important federally-driven personal finance innovation since the introduction of the Registered Retirement Savings Plan (RRSP): the Tax-Free Savings Account. This flexible, registered, general-purpose account will allow Canadians to watch their savings – including interest income, dividend payments and capital gains – grow tax free.

"The Tax-Free Savings Account is the first of its kind in Canadian history," said Mr. Goldring. "It will provide all Canadians with a powerful incentive to save. An RRSP is primarily intended for retirement, but the Tax-Free Savings Account is like an RRSP for everything else in your life."

Budget 2008 also demonstrates responsible leadership by:

Paying down debt.  Since taking office, the Government has paid down more than $37 billion on our "national mortgage", including $10.2 billion this fiscal year. The Government's aggressive pay down of debt has saved Canadians $2 billion in ongoing interest savings a year, which has been passed on to Canadians in tax relief through the Government's Tax Back Guarantee.
Strengthening Canada's tax advantage.  Since taking office, the Government has delivered almost $200 billion in tax relief over this and the next five years. Budget 2008 extends accelerated capital cost allowance treatment to the manufacturing and processing sector by three years on a declining basis --providing Alberta businesses with an additional $21.4 million in tax relief.
Investing in the future. We are extending the federal gas tax fund to municipalities permanently. This will provide an additional $2 billion a year, every year, forever.
Targeting support. Alberta will receive $104 million over three years through the Community Development Trust to support efforts to help vulnerable communities adjust to global economic uncertainty, $53 million over two years through the Public Transit Capital Trust 2008, $151 million for infrastructure initiatives, $53 million for labour market training, $5.9 million through the Cull Breeding Swine Program to alleviate financial pressures faced by the Canadian hog industry and $83 million as Alberta's share of the Clean Air and Climate Change Trust, the HPV Immunization Trust and the Patient Wait Times Guarantee.
Providing leadership at home.  We are providing $43 million to Alberta to hire new front line police officers over the next five years. Budget 2008 also provides funding to preserve and protect the environment, including $5 million for research and demonstration of carbon capture and storage projects in Alberta, and to support those with mental health issues as well as delivering $660 million to support Aboriginal Canadians.
Providing leadership abroad. We are providing the Canadian Forces with stable and predictable funding to permit long-term planning and delivering on our promises for international assistance.

As a result of restoring fiscal balance, Alberta will receive $3.4 billion in 2008-09, an increase of $1.1 billion, or 50 per cent, since 2005-06.

This includes $1.9 billion through the Canada Health Transfer and $1.1 billion through the Canada Social Transfer. For Alberta, this payment represents an increase of $542 million, or 95 per cent, since 2005-06 – due mainly to the move to an equal per capita cash allocation of the Canada Social Transfer.

"There are challenges on the horizon," said Mr. Goldring. "Some would have us go down the path to higher spending, higher interest payments and higher taxes.  That approach is misguided.  Our Government is taking the path that requires focus, prudence and discipline."



0